There are advantages to language barrriers. One of our companionships was teaching a lesson and in their conversation before they started, the man showed them his nice volume of poems and then recited a poem from one of their famous authors. He then asked the Elders if they had a strong American poem. Never at a loss, one of the Elders stood up (he's a little taller than Craig) and recited:
We had a little turtle
His name was Tiny Tim
We put him in the bathtub
To see if he could swim.
He drank up all the water
He ate up all the soap
And now he's sick in bed
With bubbles in his throat.
Glub... Glub ...
He sat down and they continued the lesson.
We walked to the Volga again .. the buildings along the way are pictures in history. The weather beats them up pretty badly on the outside, plus they are old to begin with, but you can often see the brightness of curtains, and flowers in the windows and occasionally a cat looking out.
The river is fully thawed now, was kind of choppy the day we were there, but it is always good to be down by the Volga. The sky was especially pretty over the bridge.
This boat has been frozen in the ice all winter. In Samara they actually have ice boats or air boats that can go across the frozen river.
Hmmmmm .. that must be a missionary!!
This is on the right side as we walk back up from the river
You can see the full facility above, below is looking through the gate, looks like some kind of manufacturing plant.
This building is a bit further up on the left. It always has smoke coming out and must also be some sort of manufacturing plant.
And a couple of animal friends - we hadn't seen a pigeon this color before.
and a cool looking dog so we asked if we could take the picture. We're very careful to ask unless it is just a loose dog, and there aren't many of those. We take pictures, but don't every try to pet them.
Kind of random but fun we'll stick this in the middle - a poem that a friend, former student when I taught in Riverside, emailed us -- and I remembered a take off on it from BYU days in the Daily Universe. The first two lines there were - Oh ladies be wary of cupid, and list to the lines of this verse ... rest is the same.
O innocent victims of Cupid
Remember this terse little verse
To let a fool kiss you is stupid
But to let a kiss fool you is worse.
Yip Harburg
There are a lot of pigeons now - these were on the roof of a building still kind of close to the river. It is interesting that, at this point anyway, as many as there are, you don't see the evidence of that on sidewalks or cars as we often do at home.
We thought you would be interested in this because he landed close to where we are:
"On this day, fifty-four years ago, a man called Yuri Gagarin became the first person in the world to fly into space.
Gagarin, a Soviet cosmonaut, boarded the Vostok 1 – the first human spaceflight in history—and spent 108 minutes orbiting the Earth.
To commemorate the day, the United Nations General Assembly has declared April 12 as the International Day of Human Space Flight.
"
You can see Saratov and then just below in red the actual landing site, which is across the river close to Engels where we have a branch. He ejected after the capsule was back in the atmosphere where it was safe for him, so it was the capsule that landed where it shows below. "Farmers who saw the cosmonaut fall from the sky didn't know what to make of the man in the orange suit and helmet. A woman and her daughter reportedly reached Gagarin first; when she asked if he came from space, he confidently said that he had before asking to use a phone to call the Soviet Space Agency. "
Saratov holds a big celebration every year at the site of the landing. A couple of investigators invited us to go, unfortunately this year it was today which is Sunday.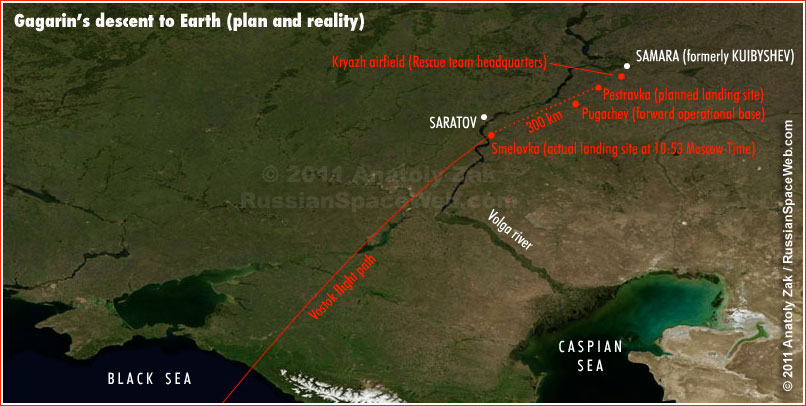 This link is to a very interesting article that tells about the first cosmonaut, even a short video of him getting into the space ship and taking off. Copy and paste this into the search bar http://www.hindustantimes.com/world-news/human-space-flight-day-revisiting-the-historic-flight-gagarin-took-54-years-ago/article1-1336356.aspx
Also in Engels there used to be a lot of factories that designed and built planes, so around this holiday you see information on other planes too. These are two models that one of our members brought to the Tuesday night meeting. They, understandably, have a lot of pride in these air and space accomplishments. We do like the people here.
We are busy and grateful to be so, keeps time moving happily along. When you talk about not knowing the sweet until you know the bitter -- we had no idea how wonderful a dry sidewalk was, potholes, bumps and all until we walked on ice for a couple of months.
Although we had already seen conference, we spent 5 or so hours Saturday and Sunday at the branch building watching conference with the young missionaries and the saints here. They had the conference in Russian in the chapel, in English in the Relief Society Room and the young Angolan sister who only speaks Portuguese watched it in the family history room. The missionaries had a sort of pot-luck in the very short time between sessions. The district leaders fixed pizza sandwiches, which consisted of very large rolls (more like small loaves of bread), tomato paste, Kolebasa (sausage) and cheese - heated in the oven. Good missionary food, they said, and very filling.
Here is one of those "thoughtful thoughts" - Be not angry with others because you cannot make them as you wish them to be, since you cannot make yourself as you wish to be. ~Thomas à Kempis

The work here continues to move along, but still there are some pretty strong anti (protif) voices, stirred a couple of weeks ago by a very negative documentary. One of our missionaries stated this thought the other day - She said that some days it seems crazy as they are out contacting and meeting people who often don't listen, but she was reading Preach My Gospel (which is a good family resource for FHE) and realized - "We literally have the authority from God to be here and to preach the gospel to the people, tell them why we are here, share this beautiful message and give them an opportunity to accept."


We look at the Volga and remember the scripture in the D&C 121 - "As well might man stretch forth his puny arm to stop the Missouri (Volga) river in its decreed course, or to turn it up stream, as to hinder the Almighty from pouring down knowledge from heaven upon the heads of the Latter-day Saints."
. We also found this by President Kimball in the April 1980 general conference:
Brothers and sisters, pray for the critics of the Church; love your enemies. Keep the faith and stay on the straight and narrow path. Use wisdom and judgment in what you say and do, so that we do not give cause to others to hold the Church or its people in disrepute. Do not be surprised or dismayed if trials and challenges come upon us. This work, which Satan seeks in vain to tear down, is that which God has placed on earth to lift mankind up!
I have lived for more than half the 150 years the restored Church has been upon the earth in this last dispensation. I have witnessed its marvelous growth until it now is established in the four corners of the earth. As the Prophet Joseph said:
"Our missionaries are going forth to different nations, and in Germany, Palestine, New Holland, Australia, the East Indies, and other places, the Standard of Truth has been erected; no unhallowed hand can stop the work from progressing; persecutions may rage, mobs may combine, armies may assemble, calumny may defame, but the truth of God will go forth boldly, nobly, and independent, till it has penetrated every continent, visited every clime, swept every country, and sounded in every ear, till the purposes of God shall be accomplished and the Great Jehovah shall say the work is done" (
History of the Church,
4:540).
Let us, then, press on confidently in the work of the Lord as we look forward to the glorious years of promise ahead. Through our faithfulness, all that God has promised will be fulfilled. This is the work of the Lord. The gospel is true. Jesus is the Christ and our Redeemer. May the Lord bless us all as we begin this great sesquicentennial conference of his church, I humbly pray, in the name of Jesus Christ. Amen. (President Kimball)
Hope this wasn't too long ..